Tags:
News From Ira's Peripheral Visions
Are you planning a party on board a yacht or a cruise ship?
"Twenty years from now you will be more disappointed by the things that you didn't do than by the ones you did do. So throw off the bowlines. Sail away from the safe harbor. Catch the trade winds in your sails. Explore. Dream. Discover." - Mark Twain
There's something so exciting and romantic about having a party on board a yacht or a cruise ship. You'd meet your guests at the harbor, board the ship and set sail on a sunny day, or a star filled evening. As the ship drifts up river or out toward the sea, you and your guests will be dazzled by the beautiful waters or the passing cityscape, depending upon your destination.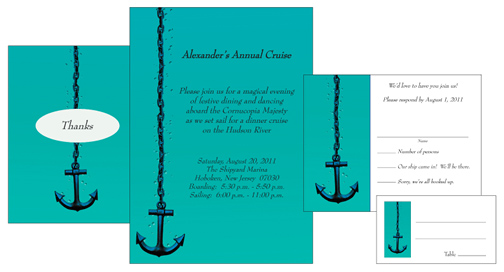 As the warmer weather approaches, many of our customers are planning their spring and summer parties on the seas. We've put together a nice collection of Party Invitations with a Cruise Theme that are available for customization.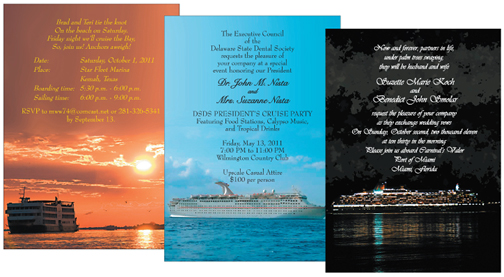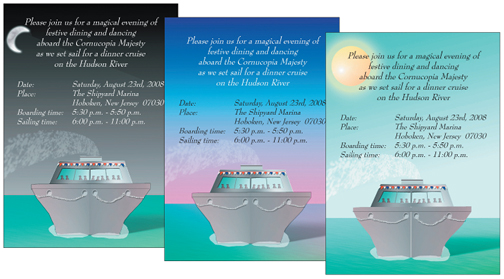 If you are planning a party on the water, we invite you to take a look at our selection of Cruise Theme Invitations. Each Invitation is available with a coordinated Response Card, Thank You Card and Place Card. They are perfect for corporate or private affairs, from an intimate dinner on a yacht to a huge corporate outing for thousands on board a cruise ship. If you're interested in receiving further information about our Invitations, please contact us.

Or give a Cruise Theme Party without ever leaving the shore!
If you dream of throwing a Cruise Theme Party but don't want to get involved with setting sail, why not create a Cruise Theme right in your own home or a local hall? Set up your own lavish cruise style buffet and suggest cruise attire for your guests. Decorate with fishnets, sea shells, life preservers or other nautical items, or cut outs of whales, dolphins and seagulls. Choose 60s surf songs to play in the background. Your guests will feel as if they've had an evening out on the seas.

"Ships are the nearest things to dreams that hands have ever made." - Unknown

There's still time to plan a party for your graduating senior.
The weather will be perfect for an open house or a backyard barbecue. It will be great to get together with family and friends to celebrate this milestone in the life of the student.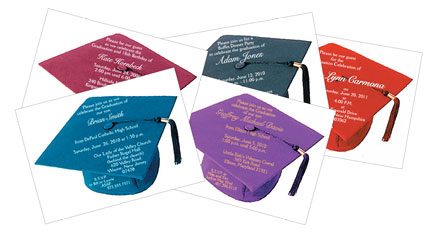 If you're planning such a celebration, please visit our selection of Graduation Party Invitations. We can coordinate the motorboard caps and type with your school colors. Or you can choose an Invitation with a simple elegant border, or a more ornate floral design. Or you can use your graduate's photo in the Invitation, so that friends and family can keep it and press it in their books of memory.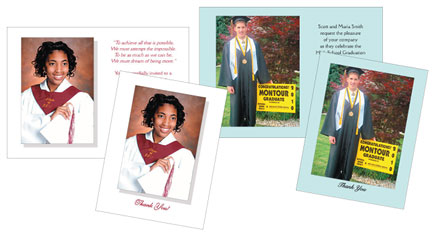 Each design is available with a coordinated Thank You Card. If you're shopping around for the perfect Graduation Thank You Card to send to those who wished your graduate well, please take a look at our selection.
Call us toll free at 888.286.0365

Friend us on Facebook

Follow us on Twitter
Read IPV Studio's Blog
Read Wet Paint, Images and Words About Dance, Art and Everything Else.
---