Tags:
News from Ira's Peripheral Visions
Throwing A Party With A New York City Theme
"One belongs to New York instantly, one belongs to it as much in five minutes as in five years." - Thomas Wolfe
"Every person on the streets of New York is a type. The city is one big theater where everyone is on display." Jerry Rubin
New York is a city with so much going on that if you mentioned it to a dozen different people, a dozen different images would form in their imaginations. To so many, it means Broadway shows and Times Square. To others, it's all about the culture, the museums, the galleries, the symphony and the ballet at Lincoln Center. Some see it as the ultimate party city, the city that never sleeps, where you can dance the night away in a chic club. To others, it's about the architecture, from the skyscrapers which make up the skyline to the brownstones and row houses which line the side streets. Or landmarks like the Brooklyn Bridge and the Statue of Liberty.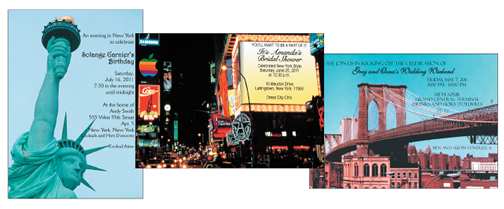 You don't have to live in New York City to throw a party with a New York City theme. People do it all across the country. Ira's Peripheral Visions has operated from New York City for the duration of our 28 years in business. One of our first lines of cards, created back in 1983, was a line of architectural drawings of New York City scenes. The collection has been growing ever since. Because of this, we have one of the largest selections of Invitations for New York City Theme Parties, along with a wide selection of verses to celebrate the "Greatest City in the World".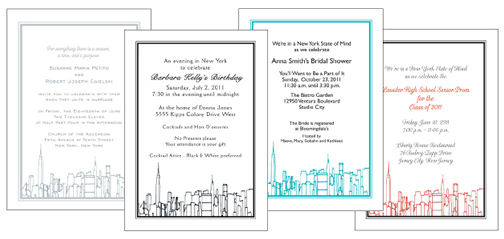 The elegant Invitation pictured above is perfect for a city wedding or any celebration in the city. It's most popular as an Invitation with black line work in a black frame with black type, but we are very flexible and we are able to deliver the line work, frame and type in whatever color you choose. We can even mix colors if you'd like, or match them to those used in your party's color scheme.
Your party doesn't have to take place in New York City. All across the country, people transform everything from banquet halls to their own living rooms in to their own little replicas of the Big Apple. To decorate the room, they create painted cardboard cut outs of the skyline, or the city's signature landmarks. Just run a search on New York Theme Party Ideas and you'll see dozens of great suggestions for your New York City Theme Party.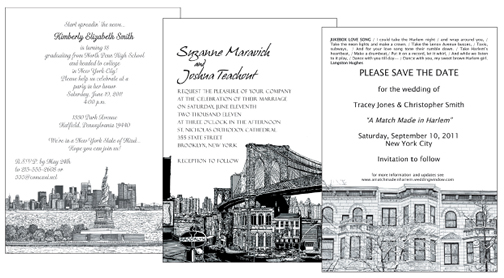 The images on these Invitations are typical of the artwork we've been offering at Ira's Peripheral Visions ever since our inception. Like the Wedding Invitations shown above, we are able to adjust all the color on these Invitations too. We invite you to visit our web site and take a look through our New York Theme Party Invitations and Invitation verses.

We also carry a large selection of Everyday Blank Note Cards with hand drawn images of New York City. Any of these cards can be transformed to an Invitation with the details of your party printed inside. Or the artwork can be used on Flat Invitations, like the ones shown above.
For further information, feel free to contact us.
"A hundred times have I thought New York is a catastrophe, and fifty times: It is a beautiful catastrophe." Le Corbusier
"There is something in the New York air that makes sleep useless." Simone De Beauvoir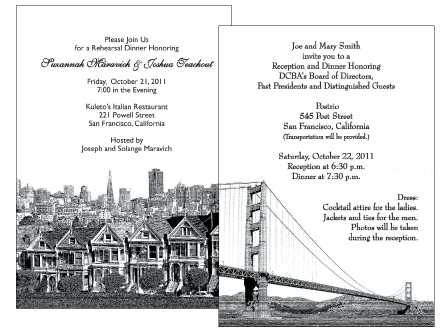 But New York City is not the only city we serve. You can also view our Invitations for parties set in Boston or San Francisco.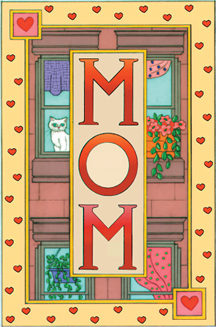 Best wishes to all the Mothers out there for a beautiful Mother's Day!
Call us toll free at 888.286.0365

Friend us on Facebook

Follow us on Twitter
Read IPV Studio's Blog
Read Wet Paint, Images and Words About Dance, Art and Everything Else.
---