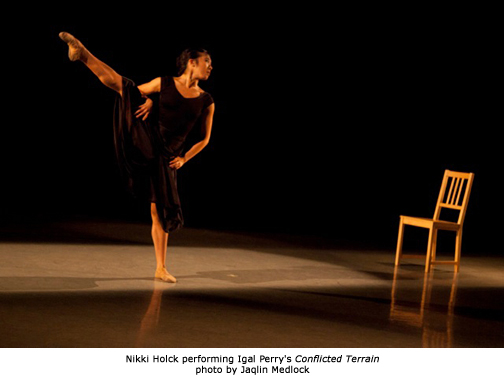 Peridance Contemporary Dance Company
Sunday,  March 10, 2013 – Matinee
Salvatore Capezio Theater
Peridance Contemporary Dance Company is a wonderful group of strong expressive multi-faceted dancers presenting powerful choreography in a unique voice.
In Igal Perry's Conflicted Terrain, the choreography extends beyond the dancers to the live musicians who performed the stirring String Quartet No. 3 by Górecki.  Each player in the quartet is perched on a platform which is moved to different stations throughout the passages of the music and the dance.  The piece opens with one of the dancers seated in one of the musician's chairs, before a music stand.  To me this seemed like a beautiful metaphor for how deeply and intimately a dancer or a choreographer can become with a piece of music and the performance of it — as if there's no real demarcation where the music ends and the dance begins.
In the opening moments of the dance, a woman slowly shifts her weight from one foot to the other, releasing the working leg to a high second.  As she finally holds the extension, her partner enters and bumps into the extended leg.  This motif and a series of other phrases reprise throughout the dance.  There are moments of the dance that flow so smoothly, with lovely and complex partnering, and passages in which the couples move in unison.  All the while, the undertow of conflict seems to be present as the musicians are rearranged on the stage and distance opens between the couples.  At times they are pulling so far from each other that they are only being kept upright by their partner's hold on them.  This was a beautiful performance of an imaginative dance.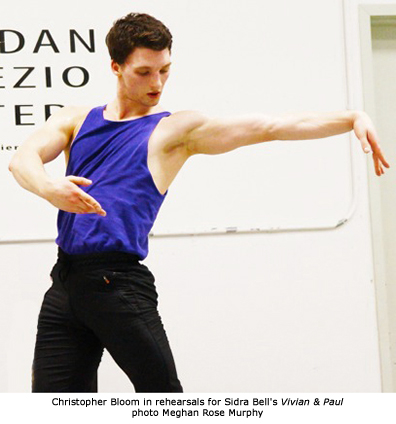 I'd never before seen Ohad Naharin's Mabul, an excerpt of which was performed on this program by Joanne DeFelice and Christopher Bloom.  The clever choreography seemed to revolve around issues of trust and even redemption.  Bloom is folded in upon himself, his arms outstretched, his hands clasped as if he's pleading.  DeFelice backs away from him.  When she allows him close to her, he bangs his head against her chest, as if violence is rising from what could have been a tender moment.  The tension seems to be resolved when DeFelice is mounted on Bloom's shoulders as if they are one being, their arms moving in unison.
Infinity, also by Igal Perry, received its world premiere.  Set to Beethoven's Hammerklavier, it's an atmospheric piece full of expansive movement in which every gesture seemed to contain its own little world — a story of its own.  The women's bodies are unfurled, their chests are open, arms apart and lengthened, legs long and extended in splits or opening up in sweeping grand rondes.  The formations travel the expanse of the entire floor.  There's a strong timelessly classical feel behind the contemporary movement.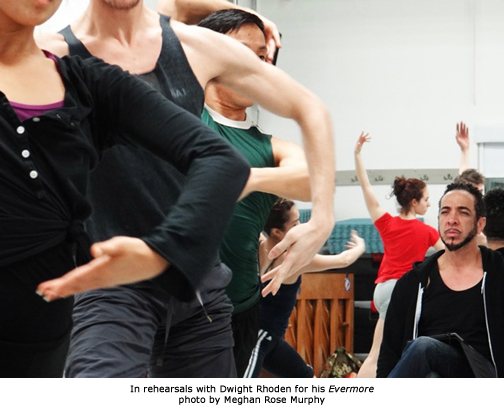 The performance closed with Dwight Rhoden's Evermore, receiving its world premiere.  It's a theatrical piece set to songs sung by Nat King Cole which would have been right at home on a Broadway stage.  The dancers breezed through the complex athletic movement that is a trademark of many Complexions' pieces and the audience seemed eager to join in the fun.  It was great to see the ease with which these contemporary dancers could transition into this Broadway style.
Peridance Contemporary Dance Company will be performing these works again the coming weekend.
Tags: Crooked Terrain, Dwight Rhoden, Evermore, Igal Perry, Infinity, Mabul, Ohad Naharin, Peridance Contemporary Dance Company

Click on box and copy shortlink:
to link to: Conflicted Terrain and Infinity – Peridance Contemporary Dance Company.
March 12, 2013 No Comments
Peridance Contemporary Dance Company
Preview Performance
Saturday, January 21, 2012
Salvatore Capezio Theater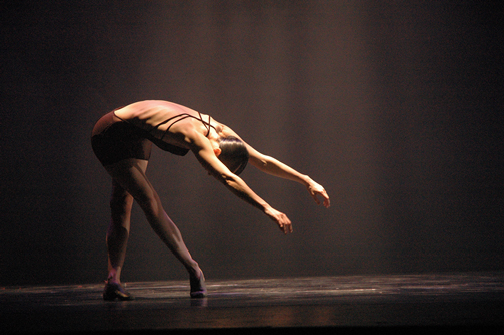 Peridance Contemporary Dance Company has been on hiatus since 2007 as the Peridance Capezio Center went through a transition, moving to new quarters with its own in-house theater.  In Fall 2011, the company re-emerged.  The concert that I saw at the Capezio Theater was a preview performance, leading up to a formal season this coming May.  The company offered a nicely varied program which showcased a group of gorgeous charismatic dancers and imaginative choreographers.
The program opened with an excerpt from Igal Perry's Constructs for 4, beautifully danced by Shay Bares, Nikki Holck, Zach Thomas and Andrew Trego to the music of J.S. Bach.  As with much of Perry's choreography, classical ballet is at the core, but the movement is very much contemporary.   Balanchine's influence seems present during certain passages of this quartet, but Perry's elegant formations speak in an updated voice with atmospheres that are more modern.  I especially loved the lifts, which seemed so effortless.  I was also taken by the way that the movement seems to open up so beautifully at moments when the strings reach the end of a phrase.  Perry's choreography and this group of dancers are extremely musical.
Leading from Behind, choreographed by Greg Dolbashian, received its World Premiere.  It's a modern piece set to electronic industrial music by Loscil.  The music is quite menacing and tension is building as the dance opens with one man standing apart from a group of five women.  The women line up shoulder to shoulder.  The line becomes a motif that reappears throughout the dance, and much of the featured movement stands apart from the line.  I especially liked one section in which the movement seems to spin off from or move through the line.  One or two dancers will work apart from the line and as the dance goes on, it seems as if a series of battles of the will ensue.  The choreography is clever and unpredictable.  This piece was performed by Peridance's Youth Ensemble, a group of strong, confident and well trained students who show great promise.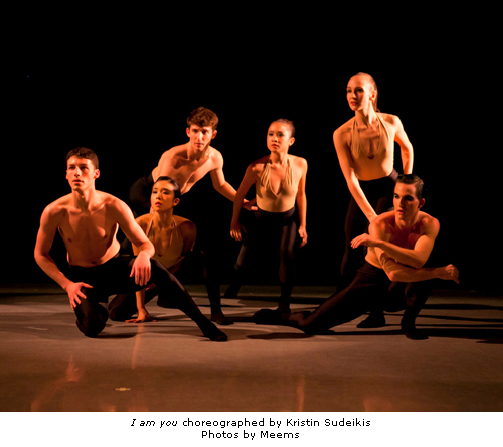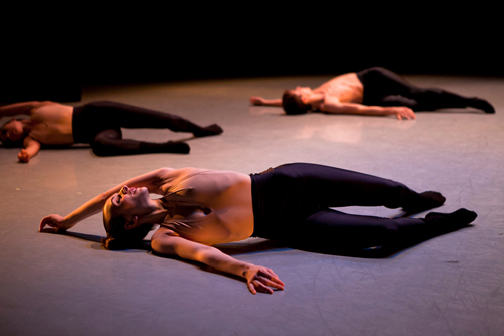 Kristin Sudeikis's jazzy I am you was also given its World Premiere.  The dancers all wear black pants, but the men are bare chested and the women are wearing nude colored tops.  The dancers seem stripped down to explore issues of identity and influence, and the piece even includes Chorus Line type sections in which the dancers face the audience and speak to describe themselves, or perhaps to describe aspects of the human condition.  The piece had an uplifting Broadway feel and the audience responded with great enthusiasm.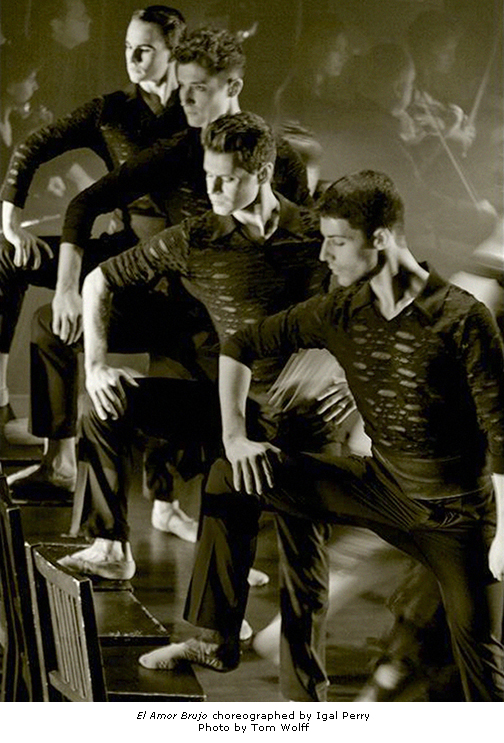 Igal Perry's El Amor Brujo, set to the gorgeous score by Manuel da Falla, is a moving piece with a flamenco flavor.  It is touching, bittersweet and packed with emotion.  In the original libretto by Gregorio Martinez, the young gypsy woman Candela has lost her husband Jose, but Jose's spirit continues to haunt Candela and won't release her to her lover Carmelo.  Perry tells the story with a slight twist – he sees Candela and Jose as being divorced rather than separated by death.  Jose isn't a ghostly spirit, but a physical presence in the story.
Nikki Holck's Candela made my heart ache as she passes from her lover Carmelo (played by Attila Csiki) to her husband Jose (played by Andrew Trego).  With quiet gestures and Perry's imaginative choreography, she clearly expresses two different kinds of love.  Though Candela and Jose are no longer together and have to move on, they embrace as if to respect the love they once had, even though they are now resigned to love each other from a distance.
Jose is a proud and masculine character, but beneath the surface he's wounded.  I was really taken by the way that Trego's movement revealed Jose's vulnerability.  Joanna DeFelice is the very image of quiet strength as she dances the role of Lucia, the woman with whom Jose falls in love, allowing him to loosen his grip on Candela and let her go.  Attila Csiki moves with such elegance and he expresses such tenderness as the romantic hero Carmelo.  Some of my favorite passages in the dance are the ones in which the four characters move together at close quarters, with Candela weaving through the formation from one man to the other.
The ensemble delivers a very strong and stirring performance that really touched my heart.  What affected me most about this dance was the subtlety with which the story is told.  Perry and his dancers trust the audience and allow us to experience the emotion of the story without the use of cliched characterizations.  The choreography never travels in the predictable direction. The dance truly does do all the talking and the story unfolds in a beautiful quiet fashion.  I also appreciated the details.  When the focus turns to the main characters, the company fills out the composition with lovely movement on the sidelines.  Subtle lighting is used to strong affect too, in conjunction with projections along the back wall of the stage.
This is a wonderful dance that I'm looking forward to seeing again.
The Peridance Contemporary Dance Company will present its major New York City season this May, featuring works by Igal Perry, Kristin Sudeikis and Sidra Bell.  Be sure to see one of their shows at the Salvatore Capezio Theater.  Dates are May 5 and 6, 12 and 13, 2012.  Visit their web site  for further details.
Tags: El Amor Brujo, Greg Dolbashian, Igal Perry, Kristin Sudeikis, Peridance Contemporary Dance Company

Click on box and copy shortlink:
to link to: Peridance Contemporary Dance Company – Preview Performance.
January 25, 2012 No Comments