Sky Dancer – Film by Katja Essen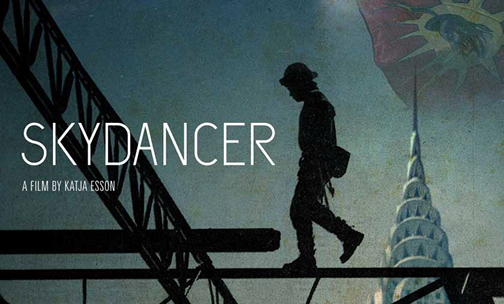 I'm so excited to learn about this documentary film, which is coming to the Brooklyn Film Festival in early June.   I just ordered my ticket to see it.
Based on what I saw in the trailer, Katja Essen's Sky Dancer actually follows a Mohawk ironworker way up on to the steel frame of a high rise building that is being raised in New York City.
I don't handle heights very well and I did a bit of panicking while watching the trailer.  But I have such an intense interest in construction and a respect and affinity for Mohawk culture, so I'm really looking forward to seeing the film.
I love the image above too.  So beautifully done.  (Artwork by Verena Brandt)
Trailer and Details of Sky Dancer at the Brooklyn Film Festival
Tags:
Brooklyn Film Festival
,
Katja Essen
,
Sky Dancer
Click on box and copy shortlink:
to link to: Sky Dancer – Film by Katja Essen.
May 26, 2011