Graduation Thank You Cards from Ira's Peripheral Visions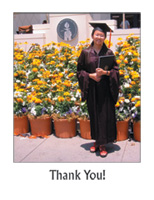 We can provide Graduation Thank You Cards whether you are looking for a pre-printed pack of cards or for custom personalized bi-fold cards. All are beautifully printed on fine quality card stock.
Our Pre-Printed Bifold Cards, shown below, come ready to use. The packs come with 10 cards and 10 envelopes. You may order anytime online or call us Toll Free: 888-286-0365 for additional information.
Our Basic Package of Custom Personalized Cards, consist of personalized cards and envelopes printed with your return address. All cards can be customized just for you. We will provide proofs on line so that you can approve your order for spelling and accuracy before we go to print.
Provide us with your favorite photo or group of photos of your special day and we will design a unique and beautiful Thank You Card just for you! Or you may choose one of our designs. We will personalize the Thank you card with your custom text
We take the images you provide and design a unique front cover for your card. You can include both images and text as long as they fit. Inside the card we will print your personalized message. Below we provide sample verses, wording for you to choose from. You may use one of these verses or change them to meet your specific needs. You can make up your own verse. Personalizing the envelopes with your return address is also included. Cards are 4.25" x 5.5". See table below for prices. We also offer a larger size card if you have more images to show or if you have a lot to say. Larger size cards are 5" x 7". See examples of larger cards and table 2 for prices below. For greater quantities please e-mail for prices.
For additional information on sending us your images or about our online proofs see our FAQ.
You may place your order by calling us toll free at 888-286-0365 or by using the order form below.
Here's how you can get the best photograph of your Graduate, so that we can make the best quality print on your thank you cards.
Click on image or Item Number to see an enlarged image of the card.