Birthday Party Invitations from Ira's Peripheral Visions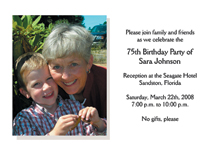 We can fill your need for Birthday Party Invitations whether you are looking for a pre-printed pack of 10 invitations or for 100 custom personalized invitations.
The Basic Package of Custom Personalized Invitations, shown below, consist of personalized invitation cards and envelopes printed with your return address. All invitations can be customized for your party. For example we can change the number to any age. We will provide proofs on line so that you can approve your order for spelling and accuracy before we go to print. See table below for prices.
Our Pre-Packaged Invitations, shown below, come ready to be filled out with you parties information. Invitations with large numbers for age are available for ages shown in pull down menu. Please specify the age for your party. The packs come with 10 invitations and 10 envelopes. You may order anytime online or call us Toll Free: 888-286-0365 for additional information.
You may place you order by calling us Toll Free: 888-286-0365 or by using the order form below.
We offer coordinated Thank You Cards for all those gifts you've received.
Click on image or Item Number to see an enlarged image of the card.